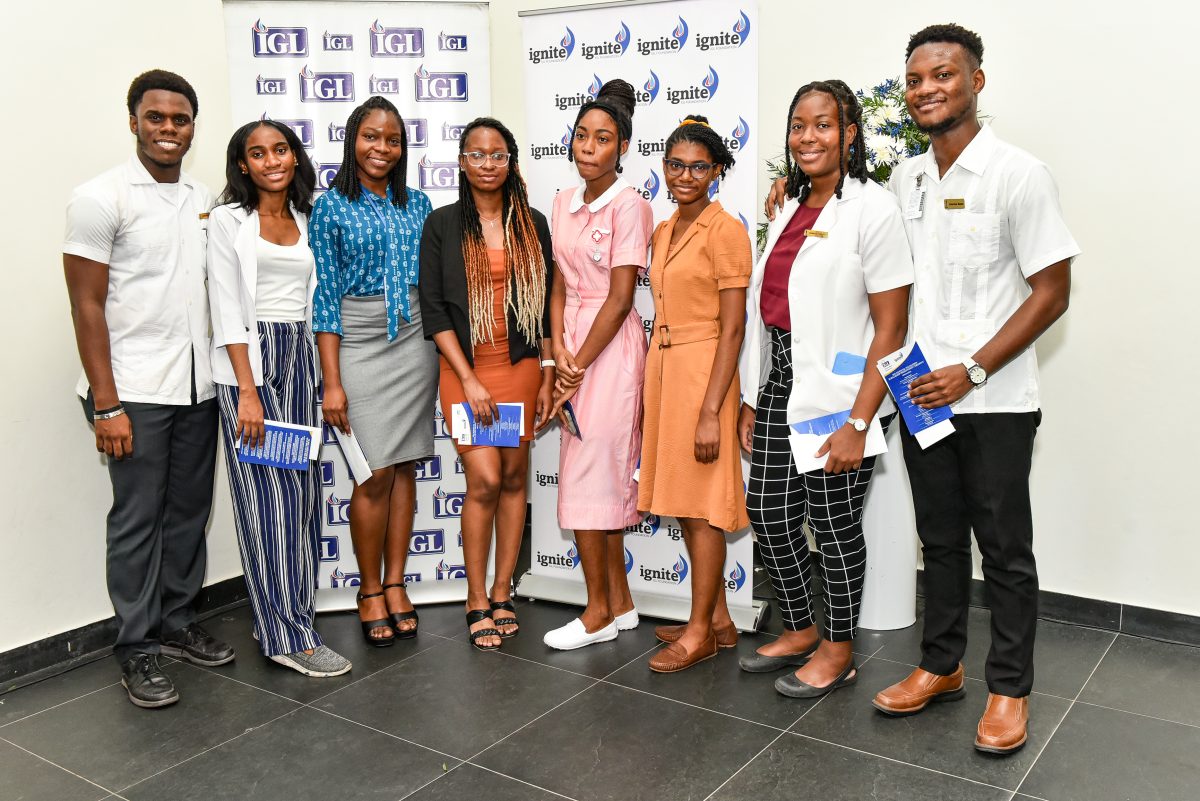 UWI, IGL PARTNERSHIP, A LIFELINE TO IMPROVING STUDENT RETENTION
Kingston, October 20, 2023 – A partnership between the University of the West Indies (The UWI) and IGL Limited is being hailed as a possible lifeline to the university's attempts to improve the student experience at the institution, leading to higher retention.
According to Dr. Tomlin Paul, Deputy Principal of The UWI, Mona, "the new university administration has placed student success as a number one priority."
Speaking at the presentation of 8 IGL Ignite Foundation scholarships to students of The UWI Faculty of Medicine and the School of Nursing, UWI Mona, Dr. Paul said "this new university administration at Mona has placed student success as a number one priority. This success is embedded in the student experience; and that experience can be thought of as a journey. We want our students to enroll, we want our students to not only enroll but to stay the course of their programme. We want them to graduate career-ready and lead a successful career and life and lastly we want our students to remain connected as alumni. So we are managing a journey with mileposts of enrolment, retention, persistence, graduation and alumni connection."
Noting that currently The UWI is seeing 80% of students returning after year 1 of studies, Dr. Paul said that "while 80% retention is good by industry standards for universities, we want to see higher rates for Mona. What we are saying is that 2 out of every 10 students are not coming back. And we are interested in those two students."
He noted that the top reason affecting student retention is financial support – 20% generally and 28% in the Faculty of Medical Sciences.
"While we as a campus support our students to the best of our capacity, the reality is that financial assistance is an area that we cannot go alone. The partnership with IGL provides that support to our students to ensure that they stay in the programme and succeed over time", Dr. Paul declared.
For the next academic year, Dr. Paul said, The UWI will be including a Financial GPS as a part of its enrollment plan to "allow students to have awareness of financial demands and support from even before they sign up so that they can plan not only their financial journey but academic journey".
Dr. Carl Bruce, Medical Chief of Staff, University Hospital of the West Indies (UHWI) was also fulsome in his praise of IGL whose relationship with UWI he said "goes beyond a partnership". He referenced outstanding efforts of IGL to ensure medical oxygen at Jamaica's hospitals during Covid-19 and the company's contributions to the field hospital to house the sick comfortably when the UHWI Hospital exhausted its rooms.
"You know the mark of a real partnership when you are in trouble, when they stand with you in a crisis. IGL stood with us and we are eternally grateful."
Peter Graham, Managing Director of IGL, accepted the kudos on behalf of IGL noting that "the IGL IGNITE Foundation has for decades given back to Jamaica, contributing to the welfare of communities and empowering young people to realize their dreams".
He noted that IGL has "a large footprint in the medical sector with millions of dollars invested in the next generation of health care professionals, including doctors and nurses."
At the presentation ceremony at the Faculty of Medical Sciences, IGL Razai Azard Rahaman Scholarships for Medicine were presented to first year students Alliah Bailey and Tiandra Morgan and continuing students Jeremiah Baker, Lisa- Kaye Hutchings, Shannon Marshall and Javonnie Myers. IGL Legacy Scholarships for Nursing were presented to Melissa Bell and Toni- Ann Williams.
2023 Ignite IGL Foundation Scholarship winners (l-r) Javonnie Myers, Lisa-Kaye Hutchings, Alliah Bailey, Tiandra Morgan, Melissa Bell, Toni-Ann Williams, Shannon Marshall and Jeremiah Baker at the scholarship presentation ceremony at The UWI Faculty of Medical Sciences on October 20, 2023.
FOR MORE INFORMATION CONTACT: IGL MARKETING: 888-IGL-BLUE (445-2583); EMAIL: iglmarketing@iglblue.com