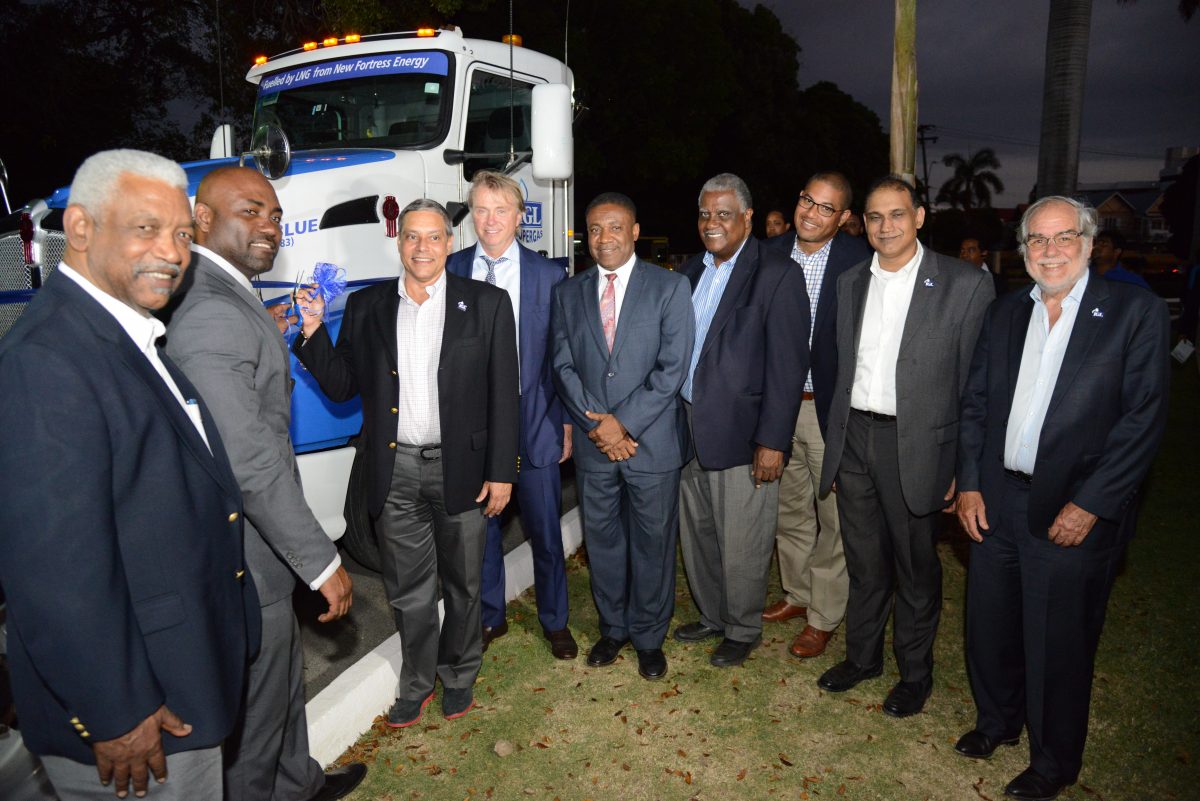 IGL Launches LNG-Powered Vehicles
IGL LTD. USHERS IN A NEW ERA OF CLEAN TRANSPORT IN JAMAICA
ISLAND'S LEADING GAS DISTRIBUTION COMPANY LAUNCHES LNG POWERED TRACTOR HEADS
Inks strategic partnership with New Fortress Energy for the initiative
Kingston, Jamaica – April 4, 2018: IGL Limited, Jamaica's leading energy and gas distribution company has taken a significant step to reduce its carbon footprint, introducing LNG (Liquefied Natural Gas) powered tractor heads, fuelled by New Fortress Energy, United States-based global leader in the energy infrastructure business.
"Today is a momentous occasion for IGL Limited as we are the first company to introduce LNG-powered Tractor Heads- Prime Movers to Jamaica. This is being done through the addition of three new Articulated Tractor Heads to our fleet" said Wayne Kirkpatrick, General Manager, IGL Ltd. "Through this initiative we are committed to reducing our greenhouse gas emissions," he added.
The introduction of Tractor Heads is part of "IGL's Clean Air Initiative" an effort to contribute to the reduction of the company's carbon footprint, while contributing to Jamaica's drive in its contribution to the Millennium Development Goals.
Commenting at the launch, held at the historical Formal Gardens of Devon House in St Andrew, Wes Edens, Founder and Chairman of New Fortress Energy, commended IGL Limited for this initiative, and reiterated his company's commitment, as a world leader in clean energy solutions, to continue offering new products and services.
"We are proud to invest in the transformation of Jamaica's energy landscape," Edens said. "In our partnership with IGL, we supply LNG fuel, provide training and offer technical expertise" he added. "The introduction of natural gas for transportation will become more competitive in the long-term when costs associated with climate change and the impact of air pollution, both on people and the environment, are monitored closely."
LNG vehicles are being used across the world as a viable alternative to gasoline – research shows that 20% to 45% smog-producing pollutants, and about 5% to 9% less greenhouse gas emissions are reduced by using LNG.
Kirkpatrick said that introduction of these tractor heads is the first among numerous path-breaking steps that IGL is taking as a socially and environmentally conscious company.
"Modernizing our fleet is the first step towards attaining our overall vision of IGL Limited to become one of the leading clean energy marketers in the Caribbean," he said.
Edens is upbeat about the prospects that are in store for Jamaica. "We envision Jamaica becoming a regional hub for natural gas, and a global clean energy model," he said.
Among the dignitaries present at the launch were Dr. Andrew Wheatley, Minister of Science, Energy and Technology; Daryl Vaz, Minister without Portfolio in the Ministry of Economic Growth and Job Creation, Opposition Spokesperson of Science, Energy and Technology, Phillip Paulwell; and Opposition Spokesperson of Transport and Mining Mikael Phillips.
They congratulated IGL Limited and New Fortress Energy on the introduction of LNG tractor heads and reiterated the government's support for zero emission fuel solutions.
"IGL Limited as a company which respects our natural resources, sees this as another step in strengthening our corporate social responsibility," Kirkpatrick said. "We will continue to introduce and implement sustainable and environmentally friendly solutions."
FOR MORE INFORMATION CONTACT: IGL MARKETING: 888-IGL-BLUE (445-2583); EMAIL: iglmarketing@iglblue.com