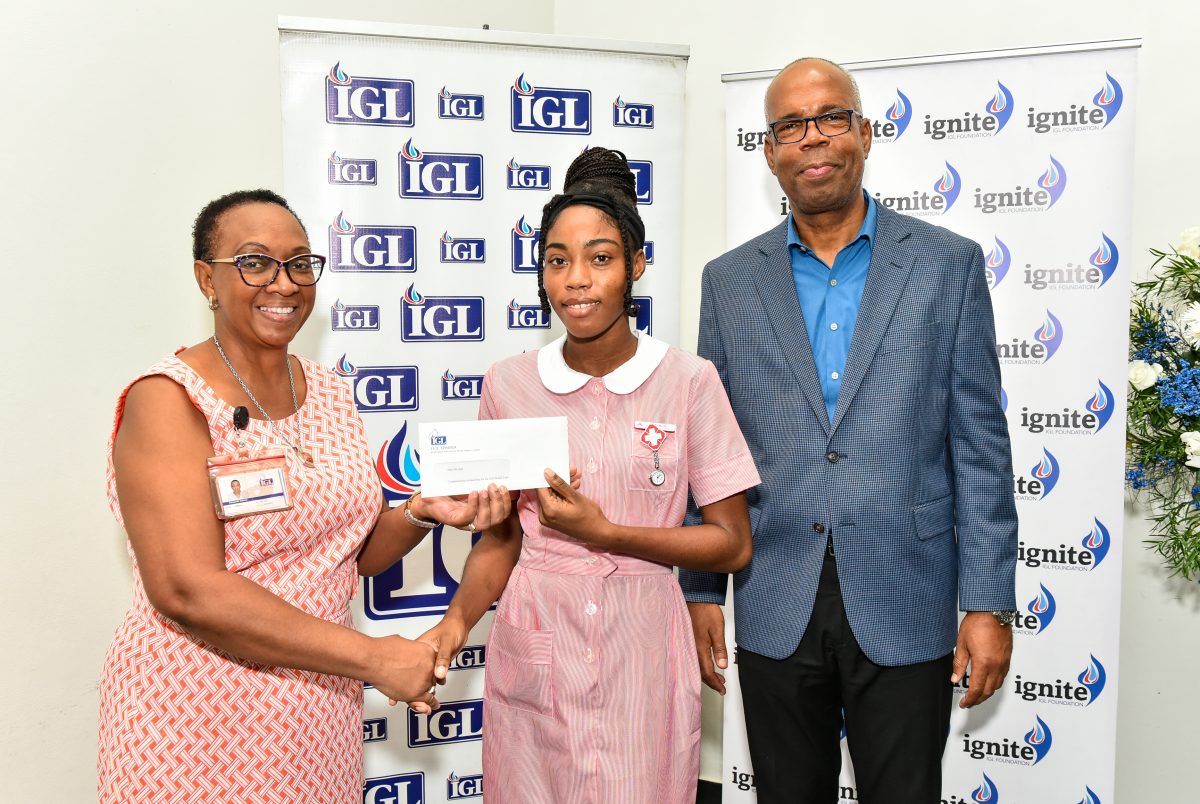 UWI MEDICAL, NURSING STUDENTS GET IGL IGNITE FOUNDATION SCHOLARSHIPS
Kingston, Jamaica, Oct. 25, 2023 – IGL Limited has presented eight academic scholarships to six University of the West Indies medical students of the faculty of Medical Sciences, University of the West Indies (UWI) and two students of the UWI School of Nursing (UWISON), all recipients of the 2023 IGL Ignite Foundation Scholarships.
First year medical students Alliah Bailey and Tiandra Morgan are recipients of the IGL Razai Azard Rahaman Scholarship for medicine. Their counterparts, four previous awardees who have maintained their scholarships on the basis of maintaining at least a 3.0 GPA, also received that scholarship for another year. They were Jeremiah Baker, Lisa-Kaye Hutchings, Shannon Marshall and Javonnie Myers.
Nursing students Melissa Bell and Toni-Ann Williams received the IGL Legacy Scholarship for Nursing.
The IGL Razai Azard Rahaman scholarship for medicine is available to Jamaican nationals registered in the first year of the full time undergraduate MBBS programme in the Faculty of Medical Sciences, University of the West Indies.
Each year, two new awards are made valued at J$650,000 each and renewable for a maximum of five years. Two IGL Legacy Scholarships for nursing are also offered each year valued at J$100,000 for two years. This scholarship is open to students registered in a full time undergraduate degree programme at the School of Nursing, who have completed at least one academic year of full time study.
Peter Graham, Managing Director of IGL Limited noted that "the IGL Ignite Foundation has been giving back to Jamaica for over 60 years having begun in 1962, the year Jamaica attained independence".
Over the period, he said, "22 medical student doctors and 22 nurses have benefitted from the scholarships and are giving back to Jamaica and their communities".
Dr. Andrea Garbutt, Deputy Dean of Success at the Faculty of Medical Sciences praised IGL for "having the vision and ability to contribute to our students who in turn are expected to build our nation, filling gaps where they exist."
It was hoped, Dr. Garbutt said, that "the success of such partnerships could signal a way for financing and the involvement of additional private sector entities".
Dr. Antoinette Barton Gooden, Graduate Programme Coordinator, UWISON noted that nurses make up approximately 70% of health care workers and the majority of them are female. Referencing the World Health Organization (WHO) State of the World Nursing Report Statement that "investment in nurses will contribute not only to the health-related Sustainable Development Goals 2023: Good health and well being but also to education, gender, decent work and economic growth, she said that "one of the strategies recommended by the WHO is partnership with educational institutions and industry aimed at bolstering education and training opportunities and employment of human resources for health."
Dr. Barton Gooden said that she "acknowledged with pride and gratitude the long standing relationship between UWISON and IGL" and their initiative that supports students who are desirous of contributing to building health systems."
"By continuing to sponsor students' pursuits of nursing, IGL is contributing not only to building Jamaica's health system, but to a global mandate to advance universal health coverage", Dr Barton Gooden declared.
Responding on behalf of the scholarship winners, Tiandra Morgan said "Thank you IGL, we are extremely grateful for your support. Just two weeks ago I was worried about how I would pay for my studies. Now we can focus on our studies. We won't let you down, IGL."
FOR MORE INFORMATION CONTACT: IGL MARKETING: 888-IGL-BLUE (445-2583); EMAIL: iglmarketing@iglblue.com)